Menu
All made with fresh ingredients, family recipes and a lot of love and effort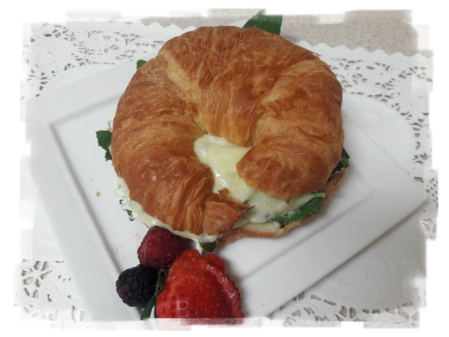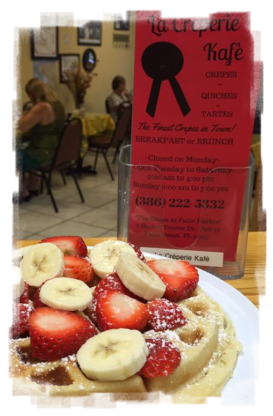 Breakfast or Brunch Daily
Coffee Reg. $2.33 - Product Martin Coffee-Jax
Good Morning $8.90
Original Slam Breakfast: Two pancakes with two eggs and choice of meat (bacon, sausage or ham)
Bonjour $8.40
French Breakfast: Two eggs and two bacon served with two slices of French Toast.
Le Breakfast $7.90
Two eggs, two bacon or sausage links, homefries and toast.
Pancakes & Belgian Waffles
(with strawberry & whipped cream)
(3 slices served with powdered sugar)
French Croissant
Egg, Cheese and Bacon $5.85
Egg, Cheese and Ham $5.85
Egg, Cheese, Ham and Bacon $6.00
Omelette
3 Eggs with Homefries and Toast
Side Order
Toast
(white, wheat, rye)
$1.75
Build your own "Crêpe" $12.15
Meat: Ham, Smoked Turkey or Roast Beef
Cheese: Swiss, Provolone or American
Bacon, Ham, Swiss-Cheese, Creme Fraiche
Chicken Breast, Diced Tomatoes,
Sauce Alfredo, Swiss Cheese
Goat Cheese, Brie, Swiss-Cheese
Smoked Salmon, Creme Fraiche & Capers
Sauteed Shrimp, Creme Fraiche, Tomatoes, Swiss Cheese
All savory crêpes served with Gradin Dauphinos
(baked layers of potatoes and heavy cream, topped with swiss cheese)
Choice of combo with salad or Gratin
French Dip $8.90 / $12.15
S
erved on Sub Roll, with thin slices of roast beef and provolone
cheese and dipping sauce "Au Jus"
Croque Monsieur $9.00 / $12.15
Baked White or Wheat Bread, Ham with Swiss
Croque Madame $9.50 / $12.15
Baked White or Wheat Bread, Ham with Swiss
Cheese,
Béchamel and Sunny-Side-Up Egg
Served with Chips and Pickle Spears
Please be aware the consumption of raw or undercooked food items may be detrimental to your health. Please inform the server of any dietary requirements or allergies.
Nutella, Banana & Whipped Cream
Nutella, Strawberry & Whipped Cream
Pear, Chocolate, Almonds & Whipped Cream
Baked Apples, Cinnamon & Brown Sugar
Raspberries, Blackberries, Strawberries,
Nutella, 1 scoop Vanilla Ice Cream
Toppings: Chocolate or Caramel or Strawberry
La Crêpe Suzette Kafe $8.50
Orange, Sugar and Lemon with Grand Marnier
(Your choice of preserves: Strawberry, Apricot, Blueberry,
Raspberry, Orange Marmalade)
Eggs, ham, bacon, swiss-cheese, creme fraiche
Quiche Aux Epinards $9.00
Eggs, fresh sauteed spinach, provolone cheese, creme fraiche
Croissant Ham or Turkey $8.40
With swiss cheese and bechamel (flour, milk/butter)
Fresh spinach with sour creme and provolone cheese
Choose the combo for only $12.15
Served with fresh spring mix, salad, and choice of dressing
Week 1 : Boeuf Bourguignonne
Week 3:
Boeuf Bourguignonne